Part of the fun of a new school year is getting new decorations for your classroom, things to help you stay organized, and outfits and accessories to wear to school. Back to school shopping has probably already started for your children, but have you started shopping for your own classroom yet? Here are some ways to start the new school year in style.
Start the New School Year in Style
As you work on setting up your classroom for the new school year, you probably make frequent stops at the Target Dollar Spot or the Dollar Tree. Finding inexpensive decorations for your classroom is always a win! If you are trying something new in your classroom this year, you might need some new materials to get started. These are some of my favorite supplies to help with reading workshop and guided math.
Once you add 25 students to your classroom, it can be hard to keep everything organized. Keep your room looking neat and tidy with these organizational supplies. A pretty planner, pens, and stationary can also help to start your year off right. Find my favorites in this post. 
Teacher Clothes and Accessories for the New School Year
If you were teaching virtually last year, your wardrobe may need a refresher. Unfortunately, pajama bottoms aren't going to work for in-person teaching. Update your wardrobe without ever leaving home with Stitch Fix and Trunk Club. Both of these services select outfits for you and deliver them directly to your house. Try them on and decide what you want to keep and what you want to send back. Returns are really easy, and you'll have a new teaching wardrobe without ever setting foot in a store.
Now is also the perfect time to get new accessories. It's important to have a few good pairs of shoes that won't hurt your feet after hours of standing and walking. These shoes will all provide your feet with comfort without sacrificing style.
A good teacher bag is also a necessity. You will inevitably be carrying things back and forth between school and home. You need a bag that is large enough to fit your laptop and lunch box but not so big that it's hard to carry. Check out these fashionable and functional designs. (There is even a backpack option and a rolling cart if you prefer those instead of an over-the-shoulder bag.)
Saving Money on Classroom Supplies
Over the years, I spent so much money buying things for my classroom. I think I could have taken a month-long European vacation with the thousands of dollars I spent on decorations, furniture, books, and other items. 
Here are a few tips to avoid spending your entire paycheck on items for your classroom:
1) Ask your principal about your school's budget. Many schools give individual teachers money each year to purchase things for their classrooms. It's not usually a lot, but over a few years you can stock up on the main things you want.
2) Look around the school for extra items that aren't being used. If you need a bookshelf, table, or chairs, don't go out and buy them yourself. It's likely that there are some hanging out around your school. Check with the custodians, look in unused rooms, and ask other teachers if they have extras. 
3) Check with your Home-School Association. They often do fundraisers to support school projects. Pitch your idea for things you want to them, and they just might have extra money to donate to your cause. (My husband's entire 5th grade team got new small group tables and stools this way.)
4) Create an Amazon Wish List. Share it with your family, friends, and maybe even your students' parents. At the beginning of the year, many families are looking for ways to support you. This post walks you through the steps to create your wish list.
5) Set up a project on Donors Choose. I know a lot of teachers who got big projects funded through this website.
What Do You Think?
What are you getting for your classroom for the new school year? How do you save money on school supplies?
Let me know in the comments.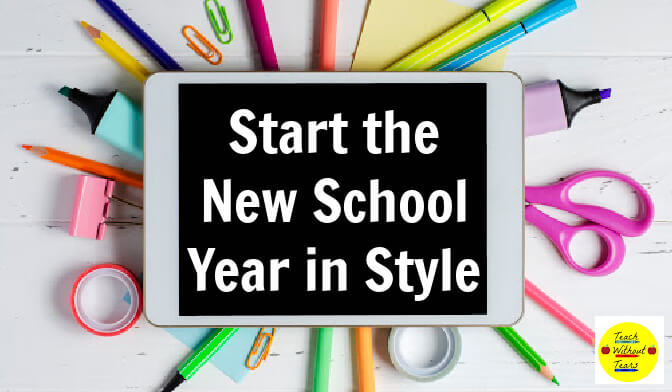 Start the new school year in style with these classroom supplies, organizational materials, and teacher wardrobe ideas. Plus, get tips for saving money.